Estimated Time to Read: 3 minutes
Knees sleeves are very useful for supporting strength equipment for various reasons. They help to keep your knee joint warm, provide additional support to your knees as well as help in providing additional stability in squatting movements. Apart from these, they offer protection to your joints especially with longer workouts and heavier weights. This post focuses on various traits an athlete must consider when purchasing knee sleeves for squatting.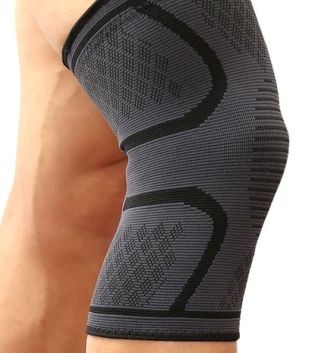 An athlete needs to ask is whether they are planning to compete in wearing knee sleeves. It is to be noted that all sleeves are not created equally. Every organization has its own set of rules on sleeves, and an athlete must read the rulebooks before investing.
What type of workout do you need the sleeves?
If you are not into a competition but need a sleeve for stability, support, and warmth, then you need to consider activities that you want them for. There are some sleeves that have been designed differently for supporting different types of activities. For instance, you will not be using an extremely stiff sleeve for a cardio-based functional workout.
Heavy compound movements
If you are using a sleeve for getting support in heavy compound movements, then look for a thick 7mm neoprene sleeve. When performing heavy compounds, he should be concerned about protecting the knee, and that feeling will come out while squatting that is the reason a thicker 7mm is the best option. This sleeve is available in four-panel design or standard cylinder design and the most crucial for this activity is mainly the tightness and thickness the sleeve provides for the joint.
Power movements and weightlifting
An athlete needs a sleeve that includes stability, support, and joint warmth without obstructing their mobility. Both 7mm and 5mm neoprene sleeves work well. When you are deciding on knee sleeves for squatting, the major consideration must be the sleeve's mobility.
Joint warmth
If you want sleeve mainly for warmth, then a 5mm or lower thickness will be perfect as the sleeve will be lighter as well as versatile to provide you enough warmth.
Durability
When purchasing knee sleeves, please check the durability as every sleeve's durability will be different bases on the construction a company is using. However, there are ways you can able to recognize what is going to degrade quickly as well as going to last.
Material and neoprene
The type of material or neoprene a company is must be your initial concern for durability. Generally, a tiff 7mm sleeve will respond better to maintain its original form when it is stretched. But that does not mean a 5mm will not be stretching quicker, but you need to consider what your main objective is. Please also inquire what quality material and neoprene a company is using. If they are using various levels of material in their products, then compare various sleeves as the premium quality neoprene will be having a higher rating or level.
Stitching
When checking the durability of sleeves, many people tend to overlook how the ends and pieces are stitched together. The sleeves which are highly durable have reinforced stitching that is available in form of triple, double or various forms of hooked stitching. Whenever a sleeve is single stitched, then you need to consider how quickly it can be frayed as it is the only security level that helps to bind together. Another factor you need to consider is how the stitching is being placed as anterior sleeve stitching has very high chances to catch on a barbell and gets quickly frayed.
Cost
There is quite a big difference in the price range for knee sleeves for squatting, and for your average pair of sleeves, you need to invest 50 dollars. There are premium quality sleeves that are basically branded which cost more than 90 dollars and are specifically manufactured for durability or taking part in the competition. Sleeves that are priced below 50 dollars are still good but if you are planning for intense workouts, then you can have durability issues. But again, if you are just a novice and do not want to buy an expensive knee sleeve, it is worth buying an extra set of pairs so that it will be easy on your wallet.