Estimated Time to Read: 3 minutes
Finding work-life balance is something that occupies most of our time, trying to prioritize both personal and professional life equally. Sadly, for many people work takes up most of their life and they are hardly left with any time and energy to focus on a fit and healthy life. If you are a guy who is very dedicated about fitness, you wouldn't let anything come in between as an excuse to miss your fitness routine, would you? If you are a working professional who is equally dedicated towards fitness, there might be instances when you hit the gym soon after work or right before work. If this describes you in any way, this article is for you!
There are many people today who visit the gym right after work or right before work. If you are one of them, you would most certainly need a gym bag that you wouldn't mind carrying to your workplace any time of the day. A small and sleek gym bag that wouldn't get much attention is something that most people would suggest, including us. In this article you will find the most helpful tips you can follow to buy a small gym bag for men.
1. Small and Sleek
Most certainly, you must first ensure that the bag you choose is small and sleek. The advantages of having a small bag are many: to start with, you won't attract a lot of attention when you walk into the office with your gym bag. Secondly, it is so much easier to carry a small and sleek bag since you are already carrying an office bag as well with you. If you take daily commute like a bus or subway, it is more difficult to move around with a bulky bag clinging on to you. Thus, always choose a small and sleek bag from the lot of small gym bags for men.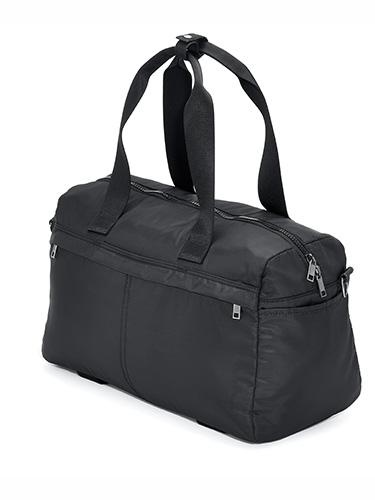 2. Color
If you have noticed, none of the office bags or briefcases come in flashy colors like orange, red or yellow. The same applies to your gym bag if you intend to carry it your workplace before/after the workout. Thus, ensure you choose a color that is subtle, soft and doesn't attract a lot of attention. Colors like black, navy blue and grey are always the safest colors you can go for while choosing a bag from small gym bags for men.
3. Look for more compartments
This is the first suggestion anybody would give you if you are planning to buy a gym bag. This is because there a lot of things one needs to carry while going to the gym. A pair of clothes, shoes, water bottles, towel, phone, headphones… the list keeps growing. There is no way you can dump your sweaty clothes, dirty shoes and phone into one single compartment and then carry it to your work. You most certainly need different compartments for each of these. Thus, when you are choosing from small gym bags for men, always go for the bags with more compartments.
4. Waterproofing and Easy to Clean
Another thing that you need to ensure while buying a gym bag that you can carry to work is that it is waterproof and easy to clean. Imagine you have all your electronic items including your phone, iPad, headphones in one compartment and a leaking water bottle in another compartment. If the bag is not waterproof, there is a great chance your electronic items will stop working one day. Moreover, if the bag is not waterproof the sweat from your post-workout clothes will be absorbed by the entire bag making it smelly. Thus, while choosing a bag from small gym bags for men, always choose a bag that is waterproof and easy to clean. The interior material must be such that you can easily clean it up with a wet cloth.