Estimated Time to Read: 3 minutes
It is known to everyone that weightlifters need the right set of gear. The right amount of preparation is required as joint pressure and muscle stress caused due to high volume bodyweight lifts. But, when you are pushing your limits, it is wise to invest in a few gears. When pursuing fitness objectives, it is essential to have wrist wrap for weightlifting as it has numerous benefits. Let us discuss a few benefits.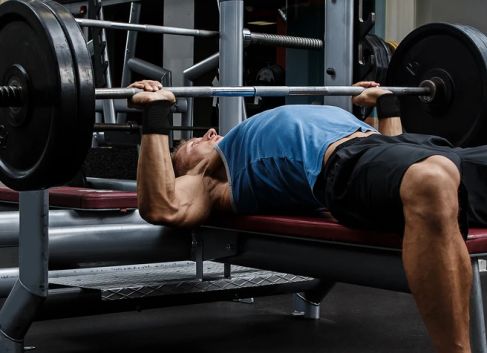 Helps in stabilizing wrists for heavy lifting
Mainly the wrist joint comprises many bones, tendons, and tiny muscles. Like any bone or muscle, it eventually gets strengthened with the workout. When you approach a 1-repetition maximum or planning to participate in a competition, your fitness should be at its peak. When you are always under heavy loads, your body is very vulnerable to injury, and high risks are there for injury. When using wrist wraps, your wrist remains stabilized so that you can prevent hyperextending and put your wrist in proper position under the bar. You can also stabilize the barbell weight and prevent sapping any strength from your legs or shoulders for corrective movements.
Supportive for high volume movements
When the mind and the body get fatigued, one sacrifices their form. Movements like ring dips, handstand pushups (HSPU's), and lifting high volumes creates a lot of stress on the wrist joint. Over time your wrist gets strengthened through multiple WODs. Instead of sacrificing form on overhead squats or HSPU's, wrist wraps can able to offer extra support and stability for providing you one less painful joint for distracting you.
Help in recovering fast from injuries
Have you ever bailed from a front squat very poorly or caught a clean wrong? In weightlifting, wrist sprains are a common injury, but you should know that the wrist is a resilient joint. After enough mobilization and rest, it is just a matter of time before you can again start putting loads back on your wrists. The benefit of a wrist strap for weightlifting is helping the recovery process faster by supporting good form. A good wrap will help in improving the stability of your wrist and take the strain off from the wrist joint. As pressure and swelling of your injury start reducing, you do not need to use wraps and allow your wrists for strengthening and healing.
At times, wrist wraps are being overused, and having a pair of good wrist wraps is to supplement rather not replace. You must alternate when you are using wraps for preventing yourself from becoming over-dependent on them. For basic CrossFit WODs and daily workouts, there is no need for using wrist wraps. When getting recovered from any injury, pushing for a maximum lift or PR, you can consider using a pair.
Types of wrist wrap for weightlifting
Mainly there are three styles of straps – hook straps, Olympic/speed straps, and loop straps. Let us discuss each one of them.
Loop straps
These straps are available with multiple materials and lengths to choose from, including leather and cloth. Loop construction helps to allow a secure fit around the wrist. The strap can be difficult for wrapping the additional material around the bar, especially if you are using one hand. Sometimes extra material makes it inconvenient for bailing out a failed lift. This is the reason loop straps are not commonly used as Olympic lifts.
Olympic/speed straps
The closed-loop attached to these straps makes it easy and quick for attaching to the bar. They are very easy to bail out in case of a failed lift, that is why this is the most preferred straps. The straps use fewer materials that means it has a less-secure grip, and you also cannot adjust the tightness around the wrist. One thing you can do is making an ad hoc version of a closed-loop strap with the help of a loop strap. You need to loosen your loop to the point where it fits in your grip but not on your wrist.
Hook straps
There is no requirement of wrapping, and a bar can be placed comfortably in the hooks. With these traps, you will not be able to squeeze the bar tightly in your hands that negatively impact your technique and do not fit around specialty bars.