Estimated Time to Read: 2 minute
Treadmills are becoming more popular these days at home, in the gym, and around the world as exercise equipment to increase cardiovascular fitness and decrease excess and unwanted body fat.  A treadmill can take you a long ways towards that New Year's fitness goal without forcing you to leave your home.  Whether walking, jogging, or running, a treadmill provides you with a comfortable environment without the hassle of avoiding fire hydrants, crossing streets, and getting wet in the rain.  You can avoid all of these hassles and get a workout while reading, watching television, keeping an eye on the children, listening to music, or even checking your email on a laptop.
What do treadmills provide for you?  Treadmills are always in season.  Whether the weather is bad or the snow is too thick, the treadmill is always in operation and is not closed on the weekends or holidays like the local gym.  They also have the capacity to walk your dog if you feel like training your dog to walk on the treadmill.  The treadmill will help shed those pounds and help to tone your body in time for swim suit season or get you in shape for the upcoming class reunion.  Besides, it never hurts to walk in your doctor's office for your annual checkup looking healthy and strong! What if you do not want to lose weight?  Treadmills are not just for shedding pounds. They are also about keeping you in healthy and fit shape.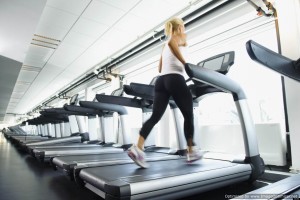 You may be thinking, "Okay, but am I ready to take that first step on my own?" Fortunately, it is fairly simple to start your own treadmill exercise regimen.  All you need is a bit of dedication and you can take those strides on your new treadmill with a deep sense of pride.
When you are ready to walk, jog and run your way to healthy, fit body, call a fitness equipment retailer who provides excellent treadmills for a low cost and provides you with fast and convenient service.  Treadmills are effortlessly installed and easily used for anyone in any age group at any fitness level.  Exercise your common sense and get fit with a treadmill. Walk the path of life in health and happiness with that fit figure you always wanted.