Estimated Time to Read: 3 minutes
Ankle injuries are not common for athletes alone. Anyone can hurt their ankle by doing simple exercises too. If you play sports regularly, you are more likely to twist your ankle every now and then. You can, however, prevent ankle injuries to quite an extent by wearing a good quality sports ankle brace.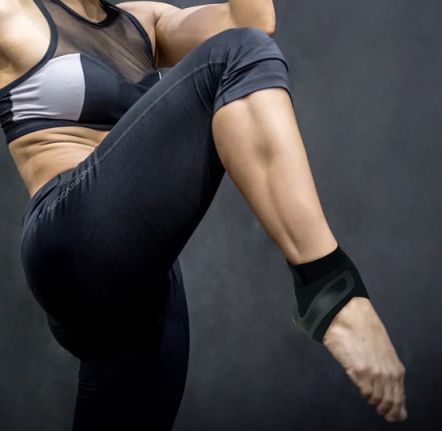 Here's how to find the best sports ankle brace.
Flexibility and Support
The right ankle brace will offer you optimum support. But it will also allow you sufficient flexibility of movement.
The right brace will enable you to move your ankles without restricting your performance. For instance, if you are wearing lace-up ankle braces; you should still be able to move around with ease. The best sports ankle brace will offer support but won't hinder your performance in any way. The brace should be lightweight and thin to offer such flexibility.
When looking for an ankle brace; see to it that you buy a style that will offer proper support for the duration of the game or the entire training session. It shouldn't come loose within a few minutes.
For preventing sprains and strains on the ankle, lace-up braces work really well. You can adjust the straps as per your comfort level and requirements. Lace-up sports ankle braces are also best for offering the right protection to prevent injuries.
You can try a few styles of ankle braces to see what works best for you. Buying a brace from a company that offers hassle-free returns can be beneficial for you. You can try the product and see if it works for you or not. You can also buy an economical pair and use it for a few days to check the flexibility and support the pair offers to you. You won't need to worry about spending too much on a product that doesn't work for you if you buy it at affordable rates.
Injury Prevention Capabilities
The ideal ankle brace will offer you all-round support. It will compress the joint just right to help you move through your sports activity easily. It will also offer support to your weak tendons; preventing any injuries.
If you are already injured then wearing the right ankle brace will help to lessen the pain and the swelling on the joint. Wearing ankle straps can hasten your recovery after sprains and strains. It can also provide relief from soreness, muscle fatigue, and any stiffness in the joint. Such support helps to prevent future injuries on already-weak and injured muscles.
Durability
You wouldn't want your new ankle braces to become useless in a day or two and rightly so. You should be getting your money's worth when you buy any item. So, ensure that the ankle brace is durable yet lightweight. The extra weight of braces is not a guarantee of its durability. The excess weight will only restrict you.
Durability is also a sign of quality. So, ensure that the ankle brace is lab-tested. It will help you to know if it is a durable product or not. You can read the product descriptions on the websites to know about the quality of the ankle braces available with them.
Comfortable to Use
The right ankle brace will be easy to wear and use. You should be able to wear it quickly and without much fuss. If you require wearing the braces all day long; you should feel at ease by doing so. The brace shouldn't cut into your skin or cause itchiness. You should feel relaxed while using it.
Some Buying Notes –
Choose a company that offers ankle straps at discounted and economical rates. It is especially useful if you are buying an ankle brace for the first time. Some companies offer attractive discounts if you buy more than one pair. So, you can utilize such offers if you play sports regularly.
Check the website of the company for client testimonials. Read what their customers are saying about the product before you buy one for yourself.
In the case of defective items, the company should offer hassle-free returns and refunds to their customers. Bonus points for the company if they cover the return shipping charges in such situations.