Estimated Time to Read: 3 minutes
Gym tote bags for women come in wide-ranging designs, shapes, and patterns. Available in Nylon, Cotton, and Synthetic materials they are made budget based with multiplicity of features. The product versatility helps millions of women find their suitable bags as per budget and necessity. Five demanding gym tote bags for women are as follows: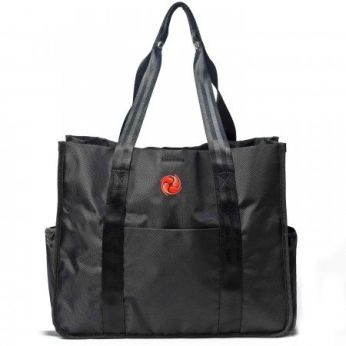 Five Popular Gym Tote Bags for Women  
Gym to Office Tote Bags
An ideal product for professional busy women of 21st century who require carrying gym tote bags for women from workplace to gym point to manage the schedule. Available in briefcase and handbag style, the bags are made specious with padded compartments for keeping laptop, vented shoe compartment, and wet clothes counters isolated, numbers of pouches with and without zippers. You can use these pockets to store your mobile phone, toiletries, soap or shampoo apart from watch and purse, keys other necessities. There are counters where you can securely keep your office papers, documents, pen drive etc. It has water bottle counter outside. There are hidden pockets also with special security system where you can keep your jewelries and other valuables.
Sporty Tote Bags       
If you are fond of participating in sports like tennis, basketball, badminton or other outdoors as well as involve in gym, then for you the ideal gym bag is sporty tote. Think of buying highly enduring flexible nylon bags that look gorgeous, come in variety and matches with your stylish attitude. Mostly, sporty totes are found in backpack style, which makes them comfortable to carry, and ideal for active women. You can get range, colors, and design in sporty bags. Fabric is also demanding however might smell after a few days of usage and they are prone to wear-and tear. You can find global standard brands that design sporty tote bags for women with a range of compartments both inside and outside. In the outside part, you can keep your water, towel since you need them frequently. Together with the bags; comes yoga mats, which can be wonderfully attached with long, tough straps, located at the base part of the tote bag.
Grab and Go Tote
Grab and Go Tote is an ideal choice for all women who need quick-access to their valuables and essentials in the pockets inside the gym bag. The bags can be opened widely, similar to handbags and you can put your things within the pouches faster than its counterparts can. There is also provision for yoga mat straps, which is made detachable making them easy to untie, when it is not in use. Grab and go tote bags for women are available in denim, flexible fabric, and nylon. Bags are found compact in size but specious inside. These totes are widely used by homemakers to college girls and teenage and have demand all over the world. You can choose your most favorite color from the varieties available in online and offline stores.
Winter Gym Tote Bags for Women
This special kind of tote is also globally popular and used by professional to house makers and athletes who need specious tote meant for winter. This can be used as a general gym bags where you can keep your woolen garments when not wearing apart from necessities like mobile phone, towel, moistures, jewelry and other necessities. Avoid bags made of low quality synthetic since these are less durable, repel odor and absorb dirt fast. Best choice materials include ballistic nylon and cotton fabric.
Bikers' Tote Bags for Women
Specially designed tote gym bags for women who use bikes or motorcycle to reach their yoga class from home, workplace, or college. The bags are roomy but compact in size and also include straps on the base for taking yoga mat. These should be typically used as backpacks. There are varieties that offer dedicated counters for laptop, personal belongings shoes, or damp workout costumes. Available in nylon and denim while almost all women choose nylon finished bags.