Estimated Time to Read: 3 minutes
If you want to be fit, you have to work for it. There are a number of options women can try to be fit, for example gym, yoga, aerobics, Zumba…the options are many. No matter what fitness regime you choose, there are a few equipment you have to carry. Clothes, shoes, towel, water bottle, phone, headphones, work clothes if you are heading to work after the workout… the list goes on. To carry all of these things you will definitely need a gym bag and choosing one isn't an easy task.
There are a number of aspects to consider before buying gym bags for Women and this article will help you understand those considerations to make an informed decision. We will lay special emphasis on women's gym bags with shoe compartment, because a shoe compartment is something that every gym bag must and should have. Read on to know more about buying a gym bag for women.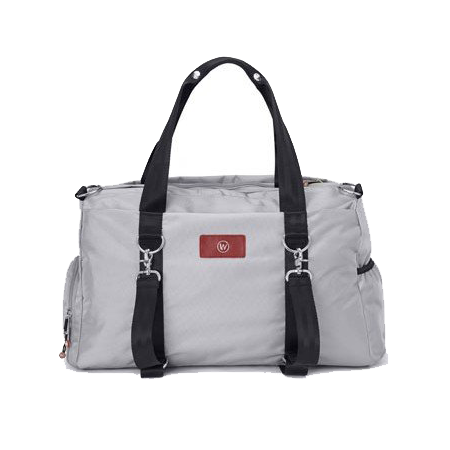 How to Buy a Women's Gym Bag with Shoe Compartment?
1. Look for a Shoe Compartment
First and foremost, whenever you are buying a gym bag look for a separate compartment for the shoes. There is no way you can dump your sweaty and dirty shoes into a compartment that already has your clothes/electronic items like phones or headphones. Whether you are buying the bag online or offline, you can always specifically ask for a women's gym bag with shoe compartment. Once you do that, judge for yourself if the compartment is sufficient enough to store your shoes and easily remove it when needed.
2. Look for More Compartments
When you are buying a gym bag, don't just settle for a gym bag with a separate shoe compartment. Since you have a lot of things to carry to the gym, you also need a lot of other compartments. For example, you most certainly need a separate compartment to put all your sweaty clothes post-workout. And of course a separate compartment for your dirty shoes. On top of that you need a small compartment for all the electronic items like phone, headphones etc. and a compartment for the water bottles as well. So, ensure to look for more than one compartment whenever you buy a womens gym bag with shoe compartment.
3. Size, Color and Design
The third most important consideration you need to make while buying a gym bag is the size, color and design of the bag. A small and sleek bag is always recommended since they are easy to carry and don't attract a lot of attention. Gym tote bags are a very popular design when it comes to women's gym bags. If you intend to carry your gym bag to work avoid bright colors and go subtle ones like black, grey or navy blue. These colors are subtle and won't embarrass you when you walk into the office with a women's gym bag with shoe compartment. If you are not intending to carry it to work, go for design and colors that you are comfortable with or something that reflects your personality.
4. Waterproof and Interiors
Lastly, when you are buying a gym bag for women, look for bags that are waterproof. This is very important because of two reasons: one, you are carrying a water bottle all the time and you don't want the water to leak into your electronic/shoe compartment. Two, if the bag is not waterproof the sweat from your clothes will seep into other compartments, spreading the foul smell of sweat all over. Thus, when you buy a women's gym bag with shoe compartment, ensure that it is made from waterproof material. In addition, when you buy the bag enquire the materials used to make the interiors of the bag and check if the interiors can be easily cleaned with a wet cloth.