Estimated Time to Read: 3 minutes
When it comes to the reasoning of buying your gym bag with yoga mat holder, it is quite practical that investing in an eco-friendly high-quality yoga mat needs its protection similar to all other accessories around you. The yoga mat bag is truly an immense solution for modern yogis that helps minimize the potential damage of the mat while carrying it to yoga center. It is, on the other hand, depending on the length, thickness, and material of your yoga mat, it would be a taxing job, no doubt, to travel with an unbending mat without any proper support.
Here comes, the sensibleness of having a mat bag, which can wonderfully house your entire mat apart from other necessities from wet clothes to snack pack and cell phone to towel within its special counters, if you opt for the same. An affordable alternative to yoga mat bag is adjustable padded straps, which are an easy solution to take your mat suspended on your shoulder. Apart from the above, you can find variety in yoga bag with yoga mat holder counting tote, duffel, and backpack categories available with modifiable straps underneath which can hold your valuable mat securely and effectively in place.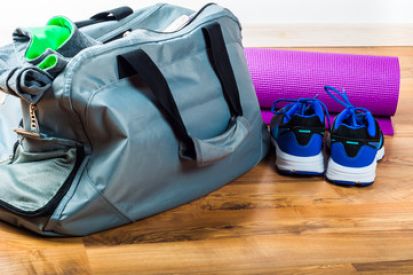 Yoga Mat Bags- A Cool and Sensible Choice
Great Portability
Almost all yoga enthusiasts prefer carrying their yoga mats on daily basis to-and-fro instead of keeping them at the center. Prepared with a consistent yoga mat bag you effortlessly move with the bulky mat on your shoulder everywhere right from the yoga center to home and undergo practices at home, go for outdoor yoga workshops or get started in the fresh airy morning in your home adjoining parks. All yoga mats are made of flexible materials and can be rolled but carrying them without being equipped with a mat bag is quite painful and rather impractical.
Protecting Mat    
Equipped with shoulder tossing straps, now travelling by public transport, your motorbike, or cycle with your yoga mat becomes convenient, stylish, and well protected. No wonder, thus investing in a gym bag with yoga mat holder is a reasonable choice that enhances the longevity, durability of the mat and offers it the treat that it deserves. Think of mat bags with adjustable long sturdy straps, which make it easy to sling on the shoulder vertically, horizontally or by your side as you use cycle or drive your motorbike.
Consider Hygiene 
Being a yoga enthusiast, you surely do not need any clarification on the vitality of maintaining hygiene while practicing yoga, as well in your daily life. Typically, a yoga mat tends to gather sweat in course of hot yoga practices that makes them malodorous, insanitary, and dirty which hinders needed synchronization among physical and mental being that enthusiasts should boast. With the presence of green mat bags, you can effectively foster breathability of the mat and protect it from growth of microbes, germs, and odor. Equally, in protecting you from exposure to germs and bacteria invade, gym bag with shoe compartment bag has a great contribution.
Greatly Specious
Be wise to invest in an extra large yoga mat bag, which has great capacity to accommodate all your essentials such as towel, yoga outfit, water bottle, cell phone, or toiletries inside the compartments and pocket orderly and securely. Bags are widely available with mesh laundry, wet cloth, and shoe section designed separately from other pockets which helps maintain hygienic and health. Nearly all yoga mat bags have one or more drawstring zipper enclosures and you can access your things across the width, which makes locating items easy and time saving.
Style Complement 
For yoga devotees all global class online stores and products are prepared with flooded number of yoga mat bags available in wide variety in terms of their shapes, sizes, and styles. When it comes to material part, you can get access them in cotton, nylon, linen and canvas, among them however, ballistic nylon is the top chosen since they are heavy-duty, flexible and breathable. Women fond of color or printed stylish cool mat bags can get them in eco-friendly material, which can effectively boast style while protecting the mat bacterial growth and taking care of your wellbeing.